Zawartość folderu "Batman.Arkham.Origins.XBOX360-COMPLEX"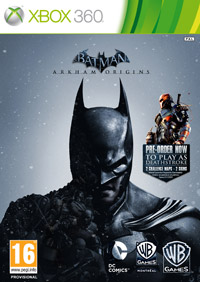 RELEASE: Batman.Arkham.Origins.XBOX360-COMPLEX
WERSJA GRY: ANGIELSKA / POLSKA (NAPISY)
ROK: 2013
GATUNEK: AKCJI, TPP, BATMAN
DATA PREMIERY:
POLSKA: 25 PAŹDZIERNIKA2013
ŚWIAT: 25 PAŹDZIERNIKA2013
REGION: REGION FREE
ZAWARTOŚĆ UPLOADU:
complex.nfo
complex-batman.ao.d1.dvd
complex-batman.ao.d1.iso
complex-batman.ao.d2.dvd
complex-batman.ao.d2.iso
OPIS:
Za sprawą gier Batman: Arkham Asylum (2009) i Batman: Arkham City (2011) wykreowana przez studio Rocksteady seria gier akcji z Człowiekiem-Nietoperzem przebojem wdarła się na listy bestselerów i stała się jedną z kluczowych marek w portfolio wydawniczym firmy Warner Bros. Interactive. Decydując o powstaniu trzeciej odsłony cyklu, wydawca podjął odważny krok i powierzył deweloping wewnętrznemu studiu WB Games Montreal.
Pod względem fabularnym Batman: Arkham Origins jest prequelem cyklu, a źródłem inspiracji scenarzystów stały się komiksy Batman: Year One oraz Legends of the Dark Knight. Akcja osadzona została w wigilię, kilka lat przed wydarzeniami przedstawionymi w Batman: Arkham Asylum. Człowiek-Nietoperz dopiero rozpoczyna swoją karierę superbohatera, tymczasem jeden z najgroźniejszych łotrów w Gotham City – Black Mask wyznaczył nagrodą za jego głowę. Batman musi stawić czoła polującym na niego złoczyńcom i odkryć, dlaczego ktoś pragnie jego śmierci.
Autorzy scenariusza położyli duży nacisk na to, by możliwie jasno wytłumaczyć podłoże często zawiłych relacji łączących Batmana z innymi postaciami pojawiającymi się we wcześniejszych grach z cyklu. Rzecz jasna nie mogło zabraknąć także zupełnie nowych bohaterów, w tym śmiertelnie groźnych wrogów pokroju Deathstroke'a.
Dynamiczna rozgrywka utrzymana jest w konwencji gry akcji z widokiem z perspektywy trzeciej osoby (TPP). Deweloperzy z WB Games Montreal pozostali wierni mechanice walki rodem z Batman: Arkham City. Warto przy tym zwrócić uwagę, że młodszy i mniej doświadczony Batman nie dysponuje jednak perfekcyjnym stylem zadawania ciosów, a niektóre umiejętności musi dopiero opanować. Bohater może za posługiwać się nowymi gadżetami, w tym Remote Claw – linką pozwalającą połączyć i przyciągnąć do siebie dwa przedmioty (także przeciwników).
Jedną z najważniejszych nowości wprowadzonych w grze jest system The Dark Knight, który wplata wyzwania bezpośrednio do rozgrywki. Twórcy nie zapomnieli też o znanych z wcześniejszych odsłon cyklu trybach Drapieżnika i Wyzwań, a także dynamicznie generowanych zdarzeniach i misjach pobocznych, pozwalających Człowiekowi-Nietoperzowi poprawić swoją reputację wśród mieszkańców Gotham.
W porównaniu z poprzednimi grami, Batman: Arkham Origin oferuje znacznie większy obszar działania, składający się z dwóch dzielnic: Starego i Nowego Gotham. Przemieszczanie się pomiędzy lokacjami znacząco ułatwia możliwość posługiwania się samolotem – Batwingiem.
Od strony technicznej Batman: Arkham Origins wykorzystuje możliwości zmodyfikowanej wersji silnika Unreal Engine 3, którą zastosowano również w Batman: Arkham City. Zapewnia ona wysokiej jakości oprawę audiowizualną.
ZDJĘCIA:
---