Zawartość folderu "Call.of.Duty.Ghosts-RELOADED"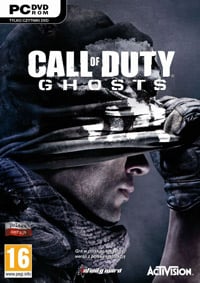 RELEASE: Call.of.Duty.Ghosts-RELOADED
WERSJA GRY: ANGIELSKA / POLSKA (NAPISY)
ROK: 2013
GATUNEK: Akcji, FPP, postapokaliptyczne, FPS
WYMAGANIA SPRZĘTOWE:
PROCESOR: Core 2 Duo 2.6 GHz
PAMIĘĆ RAM: 6 GB RAM
GRAFIKA: 1 GB (GeForce GTS 450 lub lepsza)
SYSTEM: Windows 7/8
DATA PREMIERY:
POLSKA: 05 listopada 2013
ŚWIAT: 05 listopada 2013
ZAWARTOŚĆ UPLOADU:
reloaded.nfo
rld-caofdugh.iso
Spolszczenie
OPIS:
Call of Duty: Ghosts jest dziesiątą grą z bestsellerowej serii pierwszoosobowych strzelanin (FPS), rozwijanej od 2003 roku przez koncern Activision. Tytuł wyprodukowany został przez autorów cyklu – studio Infinity Ward i zgodnie z intencjami ekipy deweloperskiej stanowi początek nowego rozdziału w historii marki.
Za warstwę fabularną gry odpowiada Stephen Gaghan, scenarzysta takich filmów jak Traffic, Regulamin Zabijania czy Syriana. Akcja ukazję wizję niedalekiej przyszłości. Na skutek katastrofy określanej jako "The Event" (wydarzenie) Stany Zjednoczone utraciły dominującą pozycję na świecie. Sytuację próbuje wykorzystać nowe supermocarstwo – Federacja Krajów Ameryki Południowej... W kampanii głównej gracz wciela się w rolę członka elitarnej jednostki wojskowej nazywanej Ghosts. Jak przystało na oddział do zadań specjalnych, "duchy" wykonują najbardziej niebezpieczne misje, często również głęboko na terytorium wroga.
Call of Duty: Ghosts stanowi próbę połączenia elementów rozgrywki doskonale znanych fanom cyklu z zupełnie nowymi rozwiązaniami. Twórcy pozostali wierni m.in. obfitującej w widowiskowe sceny akcji kampanii głównej. Jedną z ciekawszych innowacji jest natomiast obecność w oddziale wyszkolonego psa, który okazuje się nie tylko doskonałą bronią do zabijania, ale potrafi również odwrócić uwagę wrogów, wywołać efekt paniki czy niepostrzeżenie rozpoznać teren (dzięki niesionej kamerze).
W trakcie prac nad grą dużą uwagę skupiono na zabawie wieloosobowej. W trybie multiplayer gracze mogą w dużym stopniu zindywidualizować wygląd swoich bohaterów, dobierając nie tylko elementy uzbrojenia, ale także wojskowej garderoby (rękawice, paski, kamizelki itp.). Na uwagę zasługują także zupełnie nowe rodzaje map z otoczeniem wrażliwym na destrukcję oraz dynamicznymi wydarzeniami generowanymi na skutek działań graczy i zmieniających wygląd lokacji.
W grze pojawiły się także nowe tryby zabawy sieciowej (Cranked, Search & Rescue, Squad), zmieniony system perków wpływający na osiągnięcia na polu walki czy znane fanom wcześniejszych odsłon serii pakiety wsparcia.
Call of Duty: Ghosts jest pierwszą grą wykorzystującą potencjał nowego, choć częściowo opartego na wcześniejszych wersjach IW Engine, silnika. Technologia ta stworzona została głównie z myślą o możliwościach konsol ósmej generacji – Xboksa One i PlayStation 4, oferując wysokiej jakości oprawę audiowizualna oraz wsparcie dla takich efektów graficznych jak Subdivision Surface.
ZDJĘCIA: