Zawartość folderu "Assassins.Creed.IV.Black.Flag-RELOADED"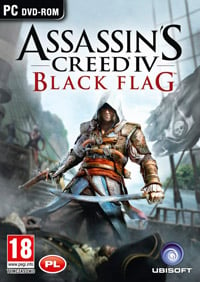 WERSJA GRY: POLSKA
ROK: 2013
GATUNEK: Akcji, TPP, Sci-Fi, Skradanki
WYMAGANIA SPRZĘTOWE:
PROCESOR: Core i5 2.5 GHz
PAMIĘĆ RAM: 4 GB RAM
GRAFIKA: 1 GB (GeForce GTX 460 lub lepsza)
SYSTEM: Windows Vista(SP1)/7(SP1)/8
DATA PREMIERY:
POLSKA: 21 listopada 2013
ŚWIAT: 19 listopada 2013
ZAWARTOŚĆ UPLOADU:
reloaded.nfo
rld-ac4bf.iso
OPIS:
Cykl Assassin\'s Creed należy do najpopularniejszych marek w portfolio koncernu Ubisoft. Trzymając się 12-miesięcznego rytmu wydawniczego, w rok po premierze Assassin\'s Creed III firma zdecydowała się wypuścić kolejną pełnoprawną odsłonę serii. Deweloping Assassin\'s Creed IV: Black Flag tradycyjnie powierzono studiu Ubisoft Montreal, któremu pomagały inne zespoły deweloperskie (m.in. Ubisoft Shanghai, Ubisoft Sofia i Ubisoft Montepllier).
Wiodącą postacią kampanii głównej w Assassin\'s Creed IV: Black Flag jest Edward Kenway (dziadek Connora Kenway\'a z Assassin\'s Creed III), pochodzący z Anglii XVIII-wieczny pirat, który podając się za członka tytułowej gildii dowiaduje się o istnieniu legendarnego Obserwatorium, pozwalającego obserwować poczynania każdej osoby na ziemi. Pałany chęcią zysku postanawia zagarnąć sekrety Obserwatorium dla siebie, wplątując się w odwieczny konflikt między zakonami Templariuszy i Asasynów. Miejscem akcji są natomiast Karaiby rok po zakończeniu hiszpańskiej wojny sukcesyjnej (1701-1714), a więc w tzw. złotej erze piractwa. Podobnie jak we wcześniejszych grach z cyklu twórcom udało się wpleść w fabułę wiele autentycznych wydarzeń i postaci. Gracze mogą więc spotkać na swojej drodze m.in. Edwarda Teacha (Czarnobrody), Benjamina Hornigolda, Calico Jacka Rackhama, Anne Bonny oraz Charlesa Vane\'a.
Świat gry podzielony został na ponad 50 unikatowych lokacji. Najważniejsze z nich to trzy duże miasta - Kingston, Hawana i Nassau, z których każde reprezentuje odmienny styl architektoniczny. Nie brakuje również małych osad rybackich, plantacji cukru, ukrytych zatoczek czy starożytnych ruin. Żeglugę po morzach ułatwia bohaterowi własny statek – Jackdaw, który poddawać można rozlicznym modyfikacjom (np. taran, wzmocniony kadłub, większa liczba armat).
Doskonale znane fanom cyklu Assassin\'s Creed standardowe elementy rozgrywki (np. akrobatyczne pokonywanie przeszkód i widowiskowe pojedynki z przeciwnikami) wzbogacone zostały o kilka innowacji. Jedną z nich jest możliwość nurkowania i eksploracji zatopionych statków. Zmiany objęły również system bitew morskich, w których znacznie poprawiono AI przeciwników. Mechanika walki bazuje na rozwiązaniach zastosowanych uprzednio w AC III. Poza standardowym ukrytym ostrzem asasynów w trakcie starć bohater może zrobić użytek z dwóch pałaszy oraz czterech pistoletów.
Tradycyjnie już kampanię główną uzupełnia rozbudowany tryb multiplayer ze sporą ilością zróżnicowanych map i postaci, w jakie można się wcielić. Największą nowość stanowi narzędzie Game Lab, które pozwala graczom modyfikować ponad 200 różnych parametrów gry i w ten sposób tworzyć własne wersje trybów wieloosobowych. Poza tym znacznie rozbudowano znany z poprzedniej części kooperacyjny tryb Wolfpack, który teraz stanowi osobny moduł multiplayera o nazwie The Wolfpack Experience, wzbogacony o własną fabułę i dodatkowe urozmaicenia.
Od strony technicznej, Assassin\'s Creed IV: Black Flag wykorzystuje możliwości silnika AnvilNext, którym deweloperzy z Ubisoftu posłużyli się również w Assassin\'s Creed III i Assassin\'s Creed III: Liberation. Oferuje on wysokiej jakości oprawę wizualną z mnóstwem detali oraz naturalnie wyglądającymi animacjami ruchu postaci i obiektów.
ZDJĘCIA: