Zawartość folderu "Sherlock.Holmes.vs.Arsene.Lupin.PL-PROPHET"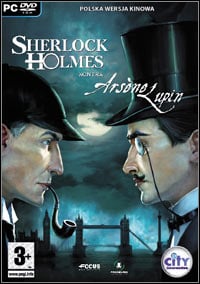 RELEASE: Sherlock.Holmes.vs.Arsene.Lupin.PL-PROPHET
WERSJA GRY: POLSKA
ROK: 2007
GATUNEK: Przygodowe, Detektywistyczne
WYMAGANIA SPRZĘTOWE:
PROCESOR: Pentium 4 1.5 GHz
PAMIĘĆ RAM: 512 MB RAM
GRAFIKA: 64 MB (GeForce 4 Ti4200 lub lepsza)
SYSTEM: Windows 2000/XP/Vista
DATA PREMIERY:
POLSKA: 03 marca 2008
ŚWIAT: 30 października 2007
ZAWARTOŚĆ UPLOADU:
ppt-sval.iso
prophet.nfo
OPIS:
Sherlock Holmes versus Arsene Lupin to kolejna już część przygód słynnego detektywa – Sherlocka Holmesa. Mamy tu do czynienia z rasową przygodówką, czyli niezbędne będzie logiczne myślenie i zdolność łączenia faktów. Produkcją gry po raz kolejny zajęło się studio Frogwares.
Sherlock Holmes otrzymuje dziwny list, którego nadawcą jest słynny Arsene Lupin, powszechnie znany jako król włamywaczy i złodziei. Lupin stawia wyzwanie detektywowi. Planuje bowiem serię wielkich kradzieży na terenie Londynu, które mają na celu upokorzenie Anglii. Zamierza się przy okazji zabawić z Holmesem, którego prosi o zajęcie się tą sprawą i powstrzymanie siebie samego. Najsłynniejszy angielski detektyw postanawia przyjąć wyzwanie francuskiego włamywacza. Zadanie to na pewno nie będzie należało do prostych, gdyż Lupin ma w zanadrzu wiele sztuczek, bardzo wysokie umiejętności i doświadczenie w swoim "fachu", potrafi też przebierać się za różne osoby i wiernie naśladować ich zachowanie. Cały ten wyścig będzie sprawą honorową zarówno dla jednego, jak i dla drugiego bohatera.
Sherlock Holmes versus Arsene Lupin to gra przygodowa, więc naszym zadaniem jest wypytywanie ludzi o różnego rodzaju sprawy, kojarzenie faktów, rozwiązywanie zagadek i wymyślanie zastosowania dla wcześniej już znalezionych przedmiotów. Byśmy nie popadli w rutynę, łamigłówki są dość zróżnicowane. Czasami trzeba znaleźć odpowiedni przedmiot i użyć go we właściwym miejscu, innym razem niezbędne okaże się połączenie dwóch rzeczy, czy znajdowanie strzępów informacji, które mogą popchnąć akcję do przodu.
Akcja rozgrywa się w dziewiętnastowiecznym Londynie, więc nie brakuje monumentalnych budowli i ładnych scenerii, wykonanych w całości w 3D.
ZDJĘCIA:
Sherlock Holmes vs Arsene Lupin PL-PROPHET.rar
1.09 GB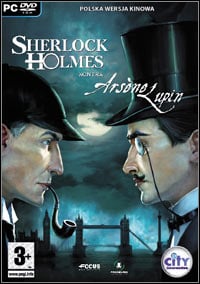 WERSJA GRY: POLSKA
Więcej >