Zawartość folderu "Aliens Colonial Marines Collectors Edition-PROPHET"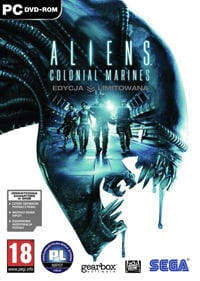 RELEASE: Aliens.Colonial.Marines.Collectors.Edition-PROPHET
WERSJA GRY: POLSKA
ROK: 2013
GATUNEK: Strzelanki, FPP, Science-fiction, FPS
WYMAGANIA SPRZĘTOWE:
PROCESOR: Quad Core i5 2.3 GHz
PAMIĘĆ RAM: 2 GB RAM
GRAFIKA: 1 GB (GeForce GTX 560 lub lepszy)
SYSTEM: Windows XP(SP3)/Vista/7
DATA PREMIERY:
POLSKA: -
ŚWIAT: 12 grudzień 2013
ZAWARTOŚĆ UPLOADU:
ppt-acmc.iso
prophet.nfo
OPIS:
Aliens: Colonial Marines to strzelanka pierwszoosobowa z trybem kooperacji, rozgrywająca się w uniwersum Obcego. Produkcja została stworzona przez studio Gearbox Software, znane z takich serii jak Brothers In Arms, czy Borderlands. Colonial Marines jest pełnoprawną kontynuacją historii filmowej i rozgrywa się po wydarzeniach z filmu Obcy 3.
W grze wcielamy się w Christophera Wintera, kaprala amerykańskich kolonialnych marines, który wyrusza z oddziałem na misję ratunkową w poszukiwaniu Ellen Ripley, bohaterki filmów z serii Obcy. Podczas tego zadania, rozgrywającego się w doskonale znanych miejscach, w tym na statku U.S.S. Sulaco oraz planecie kolonialnej LV-426, żołnierze trafiają na przerażających przeciwników. Obcych, czyli potwory zaprojektowane do zabijania. Co stało się z Ripley? Gra pokazuje ten nieznany dotąd epizod, rzucając nowe światło na całą historię.
Aliens: Colonial Marines oferuje kampanię złożoną z jedenastu misji, którą można przejść w pojedynkę lub w trybie kooperacji. W przypadku gry na podzielonym ekranie w oddziale może znajdować się dwóch graczy, z kolei gdy bawimy się online, to wówczas może ze sobą współpracować do czterech osób. Deweloper skonstruował misje tak, aby wpisać się w konwencję serii Obcy - pokazać charakterystyczne lokacje, odtworzyć typowe motywy i oddać w ręce graczy słynny ekwipunek. Wśród rodzajów broni są: miotacz ognia, czy samonaprowadzający się smartgun. Ważnym elementem zabawy pozostaje wykrywacz ruchu, wydający charakterystyczne odgłosy w momencie zbliżania się celów.
Wersja Collectors Edition Zawiera:
* Plasma Pulse Rifle
* Sonic Electronic Ball Breakers
* US Colonial Marines Academy firing range
Dodatki DLC:
* Bug Hunt DLC
* Limited Edition Pack
* SHARP Sticks
* Reconnaissanse DLC
* Movie Map Pack
* Stasis Interrupted
* Sawed-off Double Barrel Shotgun
ZDJĘCIA: