Zawartość folderu "Might.and.Magic.Heroes.VI.Complete.Edition-PROPHET"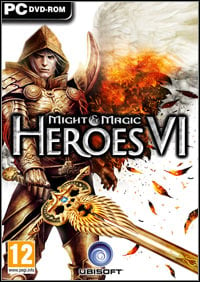 WERSJA GRY: POLSKA
ROK: 2014
GATUNEK: Strategiczne, fantasy, turowe,
WYMAGANIA SPRZĘTOWE:
PROCESOR: Core 2 Duo 2 GHz
PAMIĘĆ RAM: 2 GB RAM
GRAFIKA: 1 GB (GeForce 8800 GTX lub lepsza)
SYSTEM: Windows XP/Vista/7
DATA PREMIERY:
POLSKA: 5 styczeń 2014
ŚWIAT: 5 styczeń 2014
ZAWARTOŚĆ UPLOADU:
ppt-h6ce.iso
prophet.nfo
OPIS:
Might & Magic: Heroes VI to zgodnie z nazwą szósta odsłona najpopularniejszego cyklu turowych strategii fantasy. Tym razem za produkcję odpowiada Black Hole Games, studio które ma na koncie stworzenie m.in. Warhammer: Mark of Chaos.
Fabuła rozpoczyna się 400 lat przed wydarzeniami z piątej części i oferuje prawdziwie epicką opowieść. Pierwsze skrzypce grają w niej Anioły, które rozpoczynają spisek mający na celu rozniecenie na nowo dawno zapomnianej wojny, a pomóc ma im w tym zabity przed laty Archanioł. Ten legendarny generał powraca teraz za grobu, by szukać zemsty. Pod przykrywką przygotowań przed nadchodzącą inwazją Demonów, rozpoczyna on jednoczenie pod swym sztandarem mieszkańców Ashanu. Powstrzymać go mogą jedynie ludzie z dynastii Gryfów. Jej członkowie to jednak niestety niezłe ziółka. Najstarsza z sióstr, Anastazja, zamordowała własnego ojca, księcia Slava, a gdy wykonano na niej karę śmierci, powróciła zza światów. Teraz przewodzi hordom Nieumarłych, ostrzącym sobie zęby na obce terytoria. Jej brat bliźniak, Kiril sprzedał duszę diabłu i w jego imieniu dowodzi frakcją Inferno. Natomiast dziedzic tronu, książę Anton, dał się omamić Archaniołom i z ich błogosławieństwem prowadzi niebiańską krucjatę.
Might & Magic: Heroes VI tradycyjnie stanowi połączenie turowej strategii z elementami RPG. W czasie zabawy przychodzi nam zwiedzać ogromne mapy, zbierać tony surowców i budować nadzwyczajne miasta. Możemy rozwijać bohaterów, rekrutować jednostki i toczyć boje na pięknych mapach bitewnych. Gra oferuje ponadto sporą swobodę w odgrywaniu postaci dzięki wprowadzeniu systemu reputacji, który mocno wpływa na dalszy przebieg rozgrywki. Sporą atrakcją jest rozbudowany bestiariusz wypełniony po brzegi nowymi niebezpiecznymi potworami.
Rozgrywka toczy się w systemie turowym i jej podstawowe założenia przypominają te obecne w poprzedniej części. Nie obyło się jednak bez wielu ulepszeń i zmian. Zrezygnowano z osobnych ekranów miast na rzecz bezpośredniego zaprezentowania ich w całości na mapie. Dzięki temu jeden rzut oka wystarczy by ocenić jak rozwinięty jest dany gród. Ponadto, teraz po zdobyciu zamku przeciwnika możemy przekształcić go na miasto należące do naszej frakcji. Np. podbijając Niebo demonami, jednym kliknięciem zamienimy je w Inferno, by móc produkować sojusznicze jednostki i zyskać premie do obrony.
WERSJA GRY [ 2.1.1 ] ZAWIERA WSZYSTKIE POPRAWKI ORAZ DODATKI DLC
- PIRACI Z MORZA SZTORMÓW [ DLC ]
- TANIEC ŚMIERCI SANDRA [ DLC ]
- CIENIE MROKU [ DLC ]
ZDJĘCIA: