Zawartość folderu "Giana.Sisters.Twisted.Dreams.MULTi7-PROPHET"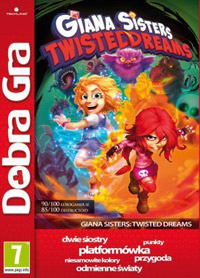 WERSJA GRY: ANGIELSKA
ROK: 2012
GATUNEK: Zręcznościowe, Platformówki, 2D
WYMAGANIA SPRZĘTOWE:
PROCESOR: Core i5 2.66 GHz
PAMIĘĆ RAM: 2 GB RAM (3 GB RAM - Vista/7)
GRAFIKA: 512 MB (GeForce 8800 GT lub lepsza)
SYSTEM: Windows XP (SP3)/Vista/7
DATA PREMIERY:
POLSKA: 23 października 2012
ŚWIAT: 20 marca 2013
ZAWARTOŚĆ UPLOADU:
ppt-gsm7.iso
prophet.nfo
OPIS:
Giana Sisters: Twisted Dreams to duchowy spadkobierca wydanej po raz pierwszy w 1987 roku gry The Great Giana Sisters. Platformówka ta mocno wzorowała się na Super Mario Bros. Wydana po 25 latach od premiery oryginału, Giana Sisters: Twisted Dreams nawiązuje do poprzedniczki, jednocześnie wprowadzając sporo nowości. Autorami gry są ludzie z niemieckiego studia Black Forest Games, składającego się z byłych członków Spellbound Entertainment (twórców takich tytułów jak Arcania: Gothic 4, Robin Hood: Legenda Sherwood, czy Desperados: Wanted Dead Or Alive).
W grze wcielamy się w postać tytułowej Giany, dziewczynki zagubionej w krainie snów. Zarówno bohaterka jak i otaczający ją świat mają dwoistą naturę. W dowolnym momencie możemy zmienić kształt i wygląd krajobrazu oraz samej Giany. W kolorowej wersji świata protagonistka przeistacza się w zbuntowaną nastolatkę, a z głośników dobiegają ostre dźwięki gitary elektrycznej. Gdy senna rzeczywistość zmienia się w koszmar, Giana pokornieje i staje się grzeczną dziewczynką, której towarzyszy stonowana, lekko niepokojąca muzyka. Zmiany wyglądu otoczenia mają nie tylko kosmetyczny charakter – istotnie wpływają również na rozgrywkę. W zależności od tego w jakiej wersji świata obecnie się znajdujemy, Giana używa innych zdolności, a dostępne stają się też pewne, zablokowane wcześniej, części poziomów.
Gra zaktualizowana do najnowszej wersji 1.1.2 i dodane dodatkowe mapy
ZDJĘCIA: