Zawartość folderu "Confrontation.MULTi9-PROPHET"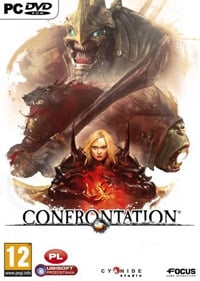 WERSJA GRY: ANGIELSKA / POLSKA (NAPISY)
ROK: 2012
GATUNEK: Strategiczne, taktyczne, elementy RPG
WYMAGANIA SPRZĘTOWE:
PROCESOR: Core 2 Duo 2 GHz
PAMIĘĆ RAM: 1 GB RAM (2 GB RAM - Vista/7)
GRAFIKA: 256 MB (GeForce 7900 GTX lub lepsza)
SYSTEM: Windows XP/Vista/7
DATA PREMIERY:
POLSKA: 06 kwietnia 2012
ŚWIAT: 05 kwietnia 2012
ZAWARTOŚĆ UPLOADU:
ppt-cftt.iso
prophet.nfo
OPIS:
Confrontation to gra strategiczna osadzona w ogarniętym wojenną pożogą świecie fantasy. Jego autorami są ludzie z francuskiego studia Cyanide, znani z takich produkcji jak Blood Bowl, Chaos League czy Loki. Całość stanowi pecetową adaptację stołowej gry bitewnej stworzonej przez firmę Rackham, której pierwsza edycja zadebiutowała na rynku w 1998 roku.
Akcja toczy się w fantastycznym świecie Aarklash, rozdartym przez wojnę znaną jako Rag\'narok. Krainę tę zamieszkuje wiele różnych ras i kultur, które w sumie zgromadzone są w trzech głównych przymierzach. Pierwsze z nich znane jest jako Drogi Światła (Ways of Light), którego członkowie chcą nadejścia pokoju i zapanowania rządów rozumu. W jego szeregach znajdziemy ludzkie królestwo Alahan, imperium Akkyllann i plemiona Avaggdu, jak również młodą elfią Republikę Lanever. Drugie przymierze przyjęło nazwę Meandrów Ciemności (Meanders of Darkness) i nie cofnie się przed niczym w pogoni za władzą. W jego skład wchodzą siły zła, takie jak martwiaki Acheronu, alchemicy Dirz, krasnoludy Mid-Nor czy elfy Akkyshans. Trzecią i ostatnią stroną konfliktu są tzw. Ścieżki Przeznaczenia (Paths of Destiny) zrzeszające takie nacje jak elfy Daikinee, gobliny No-Dan-Kar, orki Bran-O-Kor, czy przypominające wilkołaki Wolfeny z Yllia. Wszystkie te rasy łączy jedno - żadna z nich nie chce wybierać pomiędzy Światłem i Ciemnością. Zamiast tego wolą własnoręcznie wykuwać swoje przeznaczenie.
W Confrontation obejmujemy dowództwo nad małymi oddziałami elitarnych wojowników Griffonu i naszym zadaniem jest zniszczenie organizacji znanej jako Skropion. Gracze muszą dbać o uzbrojenie własnych podwładnych i rekrutować nowych wojowników. Wraz z postępami w zabawie żołnierze nabywają doświadczenia i to od naszych decyzji zależy w jakim kierunku podąży rozwój ich umiejętności.
ZDJĘCIA: