Zawartość folderu "Demonicon.MULTi5-PROPHET"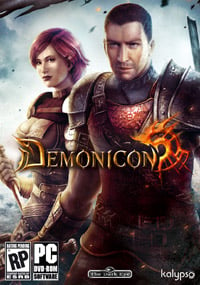 WERSJA GRY: ANGIELSKA
ROK: 2013
GATUNEK: RPG akcji, fantasy
WYMAGANIA SPRZĘTOWE:
PROCESOR: Core i5 3 GHz
PAMIĘĆ RAM: 4 GB RAM
GRAFIKA: 1 GB (GeForce GTX 460 lub lepsza)
SYSTEM: Windows XP(SP3)/Vista/7/8
DATA PREMIERY:
POLSKA: 25 października 2013
ŚWIAT: 25 października 2013
ZAWARTOŚĆ UPLOADU:
ppt-dmnc.iso
prophet.nfo
OPIS:
The Dark Eye: Demonicon to kolejna, po Drakensang, pozycja bazująca na niezwykle popularnym, głównie w krajach niemieckojęzycznych, papierowym systemie Das Schwarze Auge. Opisywana gra, autorstwa Silver Style, powinna przypaść do gustu szczególnie fanom Diablo, bowiem jej twórcy nie ukrywają wzorowania rozgrywki na kultowej już produkcji studia Blizzard.
Bohater, w którego wcielamy się w Demonicon, nie ma łatwego życia. Przybrany ojciec zostaje oskarżony o próbę morderstwa naszej ukochanej Calandry, córki bogatego alchemika i wygnany z królestwa. Jednak czy jest to prawda czy też może został oczerniony przez zawistnego sąsiada? A może spisek sięga jeszcze dalej? Nasz protagonista postanawia rozwikłać tę zagadkę, ale nie jest to łatwe, szczególnie, że wszystko dzieje się blisko granicy Czarnych Lądów, siedliska zła, a jedynym naszym przyjacielem wydaje się być tajemniczy półelf imieniem Rynn.
Droga do prawdy wiedzie przez najbardziej niebezpieczne rejony Aventurii, pełne nieprzyjaciół, miejsc skrytych w mroku i nie zawsze przyjemnych niespodzianek. Spotykamy również dość egzotyczne postacie – szaleńców, desperatów itp. – to od nas zależy jednak, komu zaufamy, kto będzie naszym przyjacielem, a kto wrogiem. Podjęte przez nas decyzje mają także wpływ na wydarzenia w całym świecie. Wybierać jednakże musimy bardzo ostrożnie – Czarne Lądy nie wybaczają pomyłek.
Świat, który przemierzamy w Demonicon został przygotowany bardzo szczegółowo, z dbałością o wierność papierowemu pierwowzorowi. Developerzy z Silver Style wprowadzili również wiele elementów, dzięki którym Aventuria "żyje" – mamy tu więc cykl dnia i nocy, mieszkańców przy swoich codziennych zajęciach, tawerny wieczorami pełne ludzi czy potwory wypełzające nocą na polowanie. Fabularny wątek główny wspomagany jest poprzez szereg zadań pobocznych, które rozwiązane mogą zostać na różne sposoby.
ZDJĘCIA: