Zawartość folderu "Need.For.Speed.Rivals-RELOADED"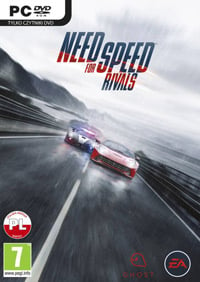 WERSJA GRY: ANGIELSKA / POLSKA
ROK: 2010 - 2013
GATUNEK: Wyścigi i rajdy samochodowe
WYMAGANIA SPRZĘTOWE:
PROCESOR: Core i5 2.5 GHz
PAMIĘĆ RAM: 8 GB RAM
GRAFIKA: 3 GB (GeForce GT 660 lub lepsza)
SYSTEM: Windows Vista(SP1)/7(SP1)/8
DATA PREMIERY:
POLSKA: 21 listopada 2013
ŚWIAT: 19 listopada 2013
ZAWARTOŚĆ UPLOADU:
reloaded.nfo
rld-nfsrvl.iso
OPIS:
Need for Speed Rivals jest kolejną grą ze znanej serii wyścigowej wydawanej przez firmę Electronic Arts. Gracz może opowiedzieć się po jednej ze stron: kierowców wyścigowych, niejednokrotnie łamiących przepisy drogowe, lub policji wykorzystującej w swojej pracy najnowsze modele super samochodów.
Wcielając się w kierowcę wyścigowego, naszym celem jest omijanie pościgu i zdobywanie punktów prędkości, dzięki którym możemy dokonywać zakupów nowych, lepszych samochodów, jak również modyfikacji poprawiających ich wygląd zewnętrzny oraz ich osiągi. W przypadku złapania przez policję lub całkowitego zniszczenia sterowanego pojazdu, zgromadzone w danym momencie punkty tracimy bezpowrotnie. Stając się policjantem, gracz powinien współpracować z pozostałymi osobami wcielającymi się w mundurowych, aby poprzez łapanie uciekinierów zdobywać coraz wyższą rangę oraz uzyskiwać dostęp do nowych modeli radiowozów.
Wspólnym elementem obu wspomnianych wyżej karier jest możliwość nabywania różnorakich technologii pościgowych, przydatnych zarówno w sprawnej ucieczce jak i w skutecznym wyłapywaniu piratów drogowych. Lista dostępnych technologii obejmuje między innymi wystrzeliwanie ładunków EMP, wzywanie na pomoc policyjnych śmigłowców, rozrzucanie kolczatek czy korzystanie z turbo gwarantującego nagły przyrost mocy.
INSTALL:
1. Unrar
2. Burn or mount the image.
3. Install the game.
4. Copy over the cracked content from the /Crack directory on the image to
your game directory.
5. Play the game.
ZDJĘCIA: