Zawartość folderu "Leisure.Suit.Larry.Reloaded.MULTi7-PROPHET"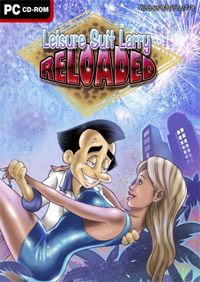 RELEASE: Leisure.Suit.Larry.Reloaded.MULTi7-PROPHET
WERSJA GRY: POLSKA
ROK: 2013
GATUNEK: Przygodowe, point-and-click, nagość
WYMAGANIA SPRZĘTOWE:
PROCESOR: Pentium 4 1.8 GHz
PAMIĘĆ RAM: 4 GB RAM
GRAFIKA: 256 MB (GeForce 6800 lub lepsza)
SYSTEM: Windows XP/Vista/7
DATA PREMIERY:
POLSKA: 11 lutego 2014
ŚWIAT: 27 czerwca 2013
ZAWARTOŚĆ UPLOADU:
ppt-lslr.bin
ppt-lslr.cue
prophet.nfo
OPIS:
Leisure Suit Larry: Reloaded to remake pierwszej części przygodowego cyklu opowiadającego o perypetiach erotomana Larry'ego Laffera. Odświeżoną wersję przygotowało studio Replay Games, a w pracach brał udział sam Al Lowe, czyli ojciec serii.
Głównym bohaterem jest łysiejący 40-letni Larry Laffer. Bohater mając dosyć samotności postanawia poszukać uczucia w mieście Lost Wages. Podczas miłosnej krucjaty czeka go wiele przygód i walka o serce jednej z pięciu kobiet. Wybranką Laffera może być m.in. lokalna prostytutka, rozpustna bywalczyni nocnych klubów, mająca już chłopaka recepcjonistka, miłośniczka wielorybów oraz piękność o imieniu Eve. Cała fabuła utrzymana jest w komediowej atmosferze i oferuje wiele wywołujących gromki śmiech scen.
Leisure Suit Larry to stuprocentowa przygodówka. Zabawa polega więc na zwiedzaniu lokacji, gromadzeniu przedmiotów, prowadzeniu rozmów i rozwiązywaniu zagadek. Ciekawym elementem mechaniki jest konieczność posiadania pieniędzy. Podbijanie niewieścich serc wymaga korzystania z taksówek i kupowania prezentów. Fundusze Larry'ego możemy podreperować, grając w blackjacka i na automatach hazardowych.
Pierwotna wersja gry wypuszczona została w 1987 roku. Korzystała z grafiki EGA w szesnastu kolorach, a interfejs oparty był na wpisywanych ręcznie komendach. W 1991 roku ukazał się pierwszy remake, który mógł się pochwalić grafiką VGA w 256 kolorach oraz interfejsem point-n-click. W porównaniu z obu tymi wydaniami Leisure Suit Larry: Reloaded posiada całkiem nową oprawę wizualną w wysokiej rozdzielczości, utrzymaną w kreskówkowym stylu znanym z siódmej części cyklu. Uproszczeniu uległ interfejs, który przypomina teraz większość współczesnych przygodówek, zmieniono również pewne zagadki, tak aby wyeliminować pewne niezbyt logiczne rozwiązania znane z oryginału. W grze nadal nie uświadczymy podświetlenia przedmiotów możliwych do zebrania.
INSTALL:
1- Unpack, burn or mount
2- Install the game
3- Go To Hell!
NOTE:
Game version is v2.0. Select your language in the
main menu.
ZDJĘCIA: