Zawartość folderu "Shadowgrounds.Survivor.MULTi11-PROPHET"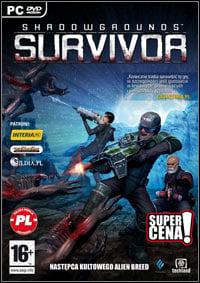 RELEASE: Shadowgrounds.Survivor.MULTi11-PROPHET
WERSJA GRY: POLSKA
ROK: 2007
GATUNEK: Strzelanki, science-fiction, widok izometryczny
WYMAGANIA SPRZĘTOWE:
PROCESOR: Pentium 4 1.5 GHz
PAMIĘĆ RAM: 512 MB RAM
GRAFIKA: 128 MB (GeForce FX 5600 lub lepsza)
SYSTEM: Windows XP(SP3)/Vista(SP2)/7/8
DATA PREMIERY:
POLSKA: 18 listopada 2007
ŚWIAT: 14 listopada 2007
ZAWARTOŚĆ UPLOADU:
ppt-sgsm.iso
prophet.nfo
OPIS:
Druga odsłona cyklu widowiskowych strzelanin, stworzona przez fińskie studio Frozenbyte. Głównym atutem programów z tej serii jest akcja przedstawiana z perspektywy lotu ptaka, stosunkowo rzadko oglądana w dzisiejszych czasach i nasuwająca oczywiste skojarzenia z klasycznymi produkcjami w stylu Gauntlet czy Alien Breed.
Shadowgrounds Survivor nie kontynuuje historii opowiedzianej w pierwowzorze, ale jeszcze raz odtwarza te same wydarzenia, tyle, że opowiedziane one są z zupełnie innej perspektywy. Gracze poznają tu całkowicie nowych bohaterów (żołnierz Luke Giffords, technik Bruno Lastmann oraz członkini sił specjalnych, Isabel Larose), a o wyczynach Wesley'a Tylera, w którego rolę wcielaliśmy się w pierwszym programie, dowiadują się w różnoraki sposób podczas rozgrywki. Tak jak poprzednio, fabuła gry koncentruje się wokół jednego z księżyców Jowisza – Ganimedesa – gdzie Ziemianom, po wielu problemach, udało się stworzyć placówkę naukowo-badawczą. Po kilkunastu latach spokojnej działalności, kolonia zostaje zaatakowana przez kosmitów, którzy nie mają ochoty brać jeńców. Ocalali pracownicy stacji muszą zatem wziąć sprawy w swoje ręce i raz na zawsze pozbyć się najeźdźców.
Program cechuje ogromna dawka strzelania – pod tym względem Shadowgrounds Survivor nie ustępuje najwybitniejszym przedstawicielom gatunku. Obfity i zróżnicowany arsenał, a także ogromna liczba wrogów sprawiają, że każdy miłośnik gier akcji znajdzie tu coś dla siebie. Produkt wprowadza też możliwość zdobywania punktów doświadczenia i w oparciu o nie, rozwijanie podstawowych umiejętności każdego z bohaterów.
INSTALL:
1- Unpack, burn or mount
2- Install the game
3- Choose your language in the game launcher
4- Go To Hell!
NOTE:
Game version is v1.09. Russian and Czech
translations are not 100% complete, but it's like
that on the source we had.
ZDJĘCIA: