Zawartość folderu "Tomb.Raider.Game.of.The.Year.Edition-PROPHET"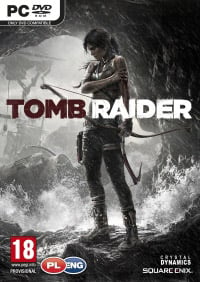 RELEASE: Tomb.Raider.Game.of.The.Year.Edition-PROPHET
WERSJA GRY: POLSKA
ROK: 2014
GATUNEK: Przygodowe gry akcji, TPP, Platformówki 3D
WYMAGANIA SPRZĘTOWE:
PROCESOR: Core i5 2.66 GHz
PAMIĘĆ RAM: 1 GB RAM (4 GB RAM - Vista/7)
GRAFIKA: 1 GB (GeForce GTX 480 lub lepsza)
SYSTEM: Windows XP/Vista/7/8
DATA PREMIERY:
POLSKA: 31 stycznia 2014
ŚWIAT: 31 stycznia 2014
ZAWARTOŚĆ UPLOADU:
ppt-trxy.iso
prophet.nfo
OPIS:
Tomb Raider to najnowsza część klasycznej serii gier akcji wzbogaconych wątkami przygodowymi. Całość została opracowana przez studio Crystal Dynamics - to samo, które stworzyło trzy poprzednie odcinki cyklu, czyli Anniversary, Legend oraz Underworld.
Gra jest restartem serii i tym samym pozwala na wcielenie się w młodą Larę Croft, zanim ta została słynną poszukiwaczką przygód. Akcja zaczyna się, gdy potężny sztorm rozbija należący do niej statek badawczy i nasza bohaterka ląduje na tajemniczej wyspie niedaleko wybrzeży Japonii. Motywem przewodnim jest tym razem przetrwanie w dzikim i wrogo nastawionym środowisku.
W tej odsłonie nasza bohaterka odgrywa rolę zarówno łowcy jak i zwierzyny dla zamieszkujących wyspę stworzeń. Współgra z tym nowa brutalna mechanika walki pozwalająca na dynamiczne starcia w zwarciu oraz kładąca większy nacisk na różnorodne zastosowania dostępnych broni, wśród których znaleźć można m.in. łuk. By przeżyć gracze muszą wykorzystywać wszystko, co mają pod ręką, a znajdowane po drodze liny, haki oraz maczety okażą się niezbędne podczas zwiedzania świata gry. Dodatkową atrakcją jest nowy system poruszania się, pozwalający na wykonanie prawie wszystkich możliwych ruchów, jakie tylko przyjdą nam do głowy. Seria Tomb Raider zawsze słynęła z elementów platformówkowych i najnowsza odsłona znacząco podnosi poprzeczkę w tej kwestii.
WERSJA ZAWIERA DODATKI DLC:
- 1939 MULTIPLAYER MAP PACK
- AGENCY SPS 12 GUN
- AGILITY SKILL
- ANIMAL INSTICT SKILL
- AVIATRIX SKIN
- CAVES AND CLIFFS MULTIPLAYER MAP PACK
- DEMOLITION SKIN
- FISHERMAN CHARACTER
- GUERILLA SKIN
- HEADSHOT RETICLE SKILL
- HUNTER SKIN
- HX AP-15 GUN
- JAGD P22G GUN
- M590 12GA GUN
- MOUNTAINEER SKIN
- PISTOL BURST UPGRAGE
- PISTOL SILENCER UPGRADE
- SCAVENGER BANDIT CHARACTER
- SCAVENGER EXECUTIONER CHARACTER
- SCAVENGER SCOUT CHARACTER
- SHANTY TOWN MAP
- SHIPWRECKED MULTIPLAYER MAP PACK
- SILVERBALLER GUN
- STG 58 ELITE GUN
- SURE-SHOT SKIN
- TOMB OF LOST ADVENTURER SINGLEPLAYER MAP
- SURVIVAL EDITION CONTENT PACK
INSTALL:
1- Unpack, burn or mount
2- Install the game
3- Copy the crack from PROPHET dir
4- Go To Hell!
NOTE:
Game version is 1.01.748.0. If game doesn't start
in language selected during the installation launch
the game and from main menu go to Options->Gameplay
and select your language there.
ZDJĘCIA: