Zawartość folderu "South.Park.The.Stick.of.Truth.PAL.XBOX360-COMPLEX"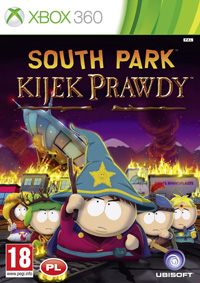 RELEASE: South.Park.The.Stick.of.Truth.PAL.XBOX360-COMPLEX
WERSJA GRY: ANGIELSKA / POLSKA (NAPISY)
ROK: 2014
GATUNEK: klasyczne cRPG, seriale animowane
DATA PREMIERY:
POLSKA: 06 marca 2014
ŚWIAT: 04 marca 2014
REGION: REGION FREE
ZAWARTOŚĆ UPLOADU:
complex.nfo
complex-south.park.sot.dvd
complex-south.park.sot.iso
OPIS:
South Park: Kijek Prawdy to RPG stanowiące adaptację szalenie kontrowersyjnej i równie popularnej kreskówki. Za grę odpowiada specjalizujące się w tym gatunku studio Obsidian Entertainment, a w prace nad nią zaangażowani są twórcy animowanego pierwowzoru.
Gracze wcielają się w dziecko, które wraz z rodziną przeprowadziło się niedawno do miasteczka South Park. Jego głównym celem jest dobre wpasowanie się w grupę rówieśników i zdobycie jak największej liczby przyjaciół. Na drodze ku realizacji tych ambicji czeka go wiele zwariowanych przygód i wyzwań. Fabuła utrzymana jest oczywiście w konwencji absurdalnego humoru znanego z ekranów telewizorów. Co warte podkreślenia, jest to pierwsza gra oparta na tej licencji, przy produkcji której aktywny udział brali twórcy animowanego pierwowzoru, czyli Matt Stone i Trey Parker. To właśnie oni odpowiadają za scenariusz gry, dialogi a nawet dubbing niektórych postaci.
Przygodę zaczynamy od stworzenia bohatera. Do wyboru jest pięć różnych klas, w tym m.in. poszukiwacz przygód, paladyn, łotrzyk, czarodziej. Zabawa polega na zwiedzaniu miasteczka, prowadzeniu rozmów i wypełnianiu zadań. System walki oparty jest na mechanice turowej i przypomina rozwiązania z wczesnych odsłon serii Final Fantasy. W potyczkach postać gracza i jeden dodatkowy zawodnik stawiają czoło 2-5 wrogom, a starcia te obserwujemy z boku.
ZDJĘCIA: