Zawartość folderu "A.New.Beginning.Final.Cut.MULTi7-PROPHET"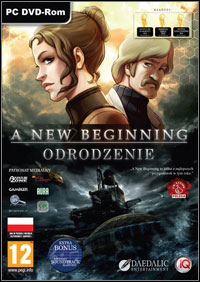 RELEASE: A.New.Beginning.Final.Cut.MULTi7-PROPHET
WERSJA GRY: POLSKA
ROK: 2010
GATUNEK: Przygodowe, point-and-click, 2D
WYMAGANIA SPRZĘTOWE:
PROCESOR: Core 2 Duo 1.8 GHz
PAMIĘĆ RAM: 1 GB RAM
GRAFIKA: 256 MB (GeForce 6600 lub lepsza)
SYSTEM: Windows XP/Vista/7
DATA PREMIERY:
POLSKA: 18 listopada 2011
ŚWIAT: 08 października 2010
ZAWARTOŚĆ UPLOADU:
ppt-nbfc.iso
prophet.nfo
OPIS:
Problem efektu cieplarnianego to niewątpliwie jedno z najpopularniejszych zagadnień społecznych, toteż poruszany jest on nie tylko w środowisku naukowców i ekologów, ale także wśród ludzi o teoretycznie innych zainteresowaniach, w tym również graczy. Fakt ten został dostrzeżony przez programistów z niemieckiego studia Daedalic Entertainment, którzy postanowili zaciekawić swych odbiorców pozycją o nazwie A New Beginning, będącą ich autorską przygodówką typu point & click.
Akcja gry toczy się pod koniec XX wieku oraz w niedalekiej przyszłości. Jednym z bohaterów jest podstarzały bioinżynier Bent Svensson, który przez wiele lat pracował nad stworzeniem nowego, alternatywnego źródła energii, lecz ostatecznie zmuszony był się wycofać. Drugą grywalną postacią jest Fay, młoda dziewczyna, która nieoczekiwanie zjawia się u Benta, utrzymując, iż pochodzi z przyszłości, w której to Ziemia została doszczętnie zniszczona kataklizmami. Przekonuje ona Svenssona, że jeżeli nie powstrzyma się rozwoju elektrowni jądrowych, to naszą planetę nawiedzi wkrótce globalna katastrofa, która doprowadzi do nieodwracalnych, negatywnych zmian klimatycznych, zagrażając życiu miliardów ludzi.
Podstawowe zadanie gracza to niedopuszczenie do realizacji owego apokaliptycznego scenariusza, a w osiągnięciu tego celu pomaga mu wspomniana dwójka, którą obserwujemy z perspektywy trzeciej osoby. Bohaterom towarzyszymy w podróży po 130 ręcznie rysowanych lokacjach, gdzie czeka na nas 30 interaktywnych postaci oraz kilkadziesiąt niebanalnych łamigłówek, z pomocą których rozwijamy fabułę i próbujemy doprowadzić do pozytywnego rozwiązania konfliktu pomiędzy egoizmem szefów wielkich korporacji, a koniecznością ochrony przyrody przed szkodliwym działaniem człowieka.
INSTALL:
1- Unpack, burn or mount
2- Install the game
3- Copy the cracked content from PROPHET dir
4- Go To Hell!
ZDJĘCIA: