Zawartość folderu "Risen.2.Dark.Waters.MULTi8-PROPHET"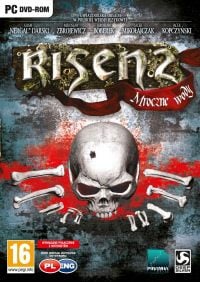 RELEASE: Risen.2.Dark.Waters.MULTi8-PROPHET
WERSJA GRY: POLSKA
ROK: 2012
GATUNEK: RPG akcji, TPP, fantasy, piraci
WYMAGANIA SPRZĘTOWE:
PROCESOR: Core 2 Duo 2.1 GHz
PAMIĘĆ RAM: 2 GB RAM (3 GB RAM - Vista/7)
GRAFIKA: 512 MB (GeForce 8800 lub lepsza)
SYSTEM: Windows XP/Vista/7
DATA PREMIERY:
POLSKA: 27 kwietnia 2012
ŚWIAT: 24 kwietnia 2012
ZAWARTOŚĆ UPLOADU:
ppt-r2dw.iso
prophet.nfo
OPIS:
Risen 2: Dark Waters to druga próba zawładnięcia rynkiem gier cRPG przez studio Piranha Bytes po tym, jak niemiecka grupa straciła prawa do tworzenia kolejnych odsłon Gothica. Produkcja kontynuuje wątki z pierwszego Risena i stanowi rozwinięcie pomysłów obecnych w poprzedniej odsłonie.
Opowieść rozpoczyna się dziesięć lat po wydarzeniach z pierwszej części. Bezimiennego przez ten czas los nie oszczędzał i nasz bohater coraz chętniej zagląda do butelki. Pewnego dnia odnajduje go znana z pierwowzoru Patty, czyli córka legendarnego pirata Stalowobrodego. Trafiła ona na trop artefaktu, który może posłużyć jako broń przeciwko poczynającym sobie coraz odważniej tytanom, i potrzebuje pomocy w jego odszukaniu. Nadarza się ku temu dobra okazja, gdyż wkrótce potem Bezimienny dostaje od Inkwizycji zadanie zinfiltrowania pirackiej frakcji na wyspie Puerto Sacarico. Lokalna kolonia zajmuje się uprawą trzciny cukrowej – dostawy stamtąd były w ostatnich miesiącach wyraźnie mniejsze niż poprzednio. Od tego prostego śledztwa zaczyna się wielka przygoda, w której spróbujemy uratować świat przed dominacją tytanów.
Risen 2: Dark Waters to podobnie jak część pierwsza RPG czystej krwi. Zabawa polega więc na przemierzaniu rozległych wysp, prowadzeniu rozmów, wykonywaniu zlecanych zadań, mordowaniu potworów i gromadzeniu skarbów. Wraz z postępami w kampanii nasz bohater nabiera doświadczenia i rozwija swoje umiejętności. W porównaniu z pierwowzorem znacząco ulepszono system walki. W trakcie starć możemy korzystać zarówno z normalnych ciosów, jak i z potężnych uderzeń specjalnych oraz wyprowadzać kontry i łączyć to wszystko w kombosy. Możliwe są nawet ciosy wręcz. Przykładowo, odbijamy mieczem ostrze wroga, po czym przywalamy mu pięścią w twarz. Dodatkowego smaczku dodaje broń palna oraz pirackie zagrywki jak np. użycie papugi w celu rozpraszania wrogów.
WERSJA GRY: v1.0.1210.0.
GRA ZAWIERA DODATKI DLC:
- A Pirate's Clothes DLC
- Treasure Isle DLC
- Air Temple DLC
INSTALL:
1- Unpack, burn or mount
2- Install the game
3- Copy the cracked content from PROPHET dir
ZDJĘCIA: