Zawartość folderu "Nightmares.From.The.Deep.The.Cursed.Heart.Collectors.Edition.MUL"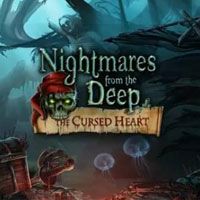 RELEASE: Nightmares.From.The.Deep.The.Cursed.Heart Collectors.Edition.MULTi12-PROPHET
WERSJA GRY: POLSKA
ROK: 2012
GATUNEK: Przygodowe, ukryte przedmioty, 2D
WYMAGANIA SPRZĘTOWE:
PROCESOR: Core 2 Duo 1, 5 GHz
PAMIĘĆ RAM: 512 MB RAM
GRAFIKA: 256 MB (GeForce 6600 lub lepszy)
SYSTEM: Windows XP/Vista/7
DATA PREMIERY:
POLSKA: 19 kwietnia 2012
ŚWIAT: 19 kwietnia 2012
ZAWARTOŚĆ UPLOADU:
ppt-chv2.bin
ppt-chv2.cue
prophet.nfo
OPIS:
Nightmares from the Deep: The Cursed Heart to polska przygodówka w stylu "ukryte obiekty" (z ang. "hidden object"), w której głównym zadaniem gracza jest odnajdywanie przedmiotów na ekranie. Producentem tytułu jest zabrzańskie studio Artifex Mundi.
W Nightmares from the Deep: The Cursed Heart wcielamy się we właścicielkę muzeum, która rusza w pościg za nieumarłym piratem, aby uratować swoją córkę. Okazuje się, że korsarz porwał dziewczynę w dość nietypowym celu: zamierza przywrócić do użycia swoją ukochaną. Z misji ratunkowej przeprawa przeobraża się w większą przygodę, podczas której poznamy źródło mocy piratów i spróbujemy zdjąć rzuconą na nich klątwę.
Twórcy The Cursed Heart połączyli typowe wyzwania z gier "hidden object" z elementami przygodówki oraz łamigłówkami. Przez większość czasu gracz musi odnajdywać i wskazywać konkretne obiekty w lokacjach. Problem polega na tym, że każda z nich zawiera setki elementów i detali. Rozgrywkę urozmaicają proste minigierki logiczno-zręcznościowe (np. Mahjong) oraz interaktywne scenki fabularne. W razie problemów z pomocą przychodzą podpowiedzi.
Studio Artifex Mundi postarało się o to, aby gra Nightmares from the Deep: The Cursed Heart robiła duże wrażenie od strony wizualnej. W produkcji oglądamy wiele ręcznie malowanych, pieczołowicie przygotowanych lokacji, wypełnionych po brzegi detalami. The Cursed Heart jest utrzymana w klimatach pirackich, więc podczas przygody zwiedzamy pokład zapomnianego statku, tajemniczą wyspę, grobowce i wiele innych tajemniczych miejsc.
INSTALL:
1- Unpack, burn or mount
2- Install the game
3- Copy the crack from PROPHET dir
NOTE:
It's the new version form Steam with some fixes
and improvements (like achievments added).
ZDJĘCIA: