Zawartość folderu "ARMA.3.Complete.Campaign.Edition-RELOADED"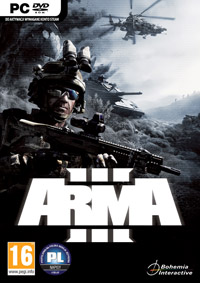 RELEASE: ARMA.3.Complete.Campaign.Edition-RELOADED
WERSJA GRY: POLSKA
ROK: 2013
GATUNEK: Strzelanki, FPP, współczesne konflikty, FPS, wojenne
WYMAGANIA SPRZĘTOWE:
PROCESOR: Intel Core i5 2.8 GHz
PAMIĘĆ RAM: 2 GB RAM (4 GB RAM - Vista/7)
GRAFIKA: 1 GB (GeForce GTX 560 lub lepsza)
SYSTEM: Windows Vista(SP2)/7(SP1)
DATA PREMIERY:
POLSKA:
ŚWIAT:
ZAWARTOŚĆ UPLOADU:
reloaded.nfo
rld-arma3cc.iso
OPIS:
Akcja ArmA III osadzona została w niedalekiej przyszłości. Po latach intensywnych działań wojennych na Bliskim Wschodzie, Europa staje się ostatnim bastionem dla osłabionych sił wojskowych NATO. Dowództwo Paktu upatruje szansy na zmianę sytuacji w desperackiej misji daleko na tyłach wroga. Niewielka wyspa na Morzu Śródziemnym skrywa militarny sekret, który może mieć kluczowe znaczenie dla losów toczącego się konfliktu. Na miejsce wysłani zostają żołnierze jednostki specjalnej oraz badacze. Rozpoczyna się operacja o kryptonimie "Magnitude". Tryb solowy w grze oferuje zarówno fabularyzowaną kampanię główną, jak i rozgrywkę w trybie otwartym (bez zakończenia). Czescy deweloperzy nie zapomnieli też o miłośnikach starć multiplayer. Dedykowane serwery (odrębnie dla systemów Windows i Linux) umożliwiają zabawę zarówno w trybie rywalizacji jak i kooperacji.
Twórcy gry postawili sobie zadanie, by dać graczom możliwie dużą swobodę działania. Ma to swoje odzwierciedlenie chociażby w bogatych opcjach indywidualizacji umundurowania czy uzbrojenia. W porównaniu z poprzednimi odsłonami serii ArmA III oferuje także większy wachlarz dostępnych broni i pojazdów. Gracze mogą kierować różnego rodzaju samolotami, helikopterami, pojazdami kołowymi a nawet statkami. Twórcy poprawili interfejs użytkownika, dzięki czemu jest on znacznie łatwiejszy w obsłudze. Jednocześnie nie zostało to osiągnięte przez uproszczenie mechanizmów rozgrywki. Wszystkie opcje i funkcje wciąż są dostępne. Teraz po prostu korzystanie z nich jest prostsze. Po raz pierwszy w historii serii pojawiają się również misje podwodne.
WERSJA GRY [ 1.14 ]
ZAWIERA WBUDOWANE WSZYSTKIE AKTUALIZACJE
ZAWIERA SINGLEPLAYER [ WSZYSTKIE 3 EPIZODY ]:
- EPISODE 1 "SURVIVE"
- EPISODE 2 "ADAPT"
- EPISODE 3 "WIN"
INSTALL:
1. Unrar
2. Burn or mount the image.
3. Install the game.
4. Copy over the cracked content from the /Crack directory on the image to your game install directory.
5. Play the game.
ZDJĘCIA: