Zawartość folderu "Total.War.ROME.II.Hannibal.at.the.Gates-RELOADED"

RELEASE: Total.War.ROME.II.Hannibal.at.the.Gates-RELOADED
WERSJA GRY: POLSKA
ROK: 2014
GATUNEK: Strategiczne, RTS, turowe, starożytność
WYMAGANIA SPRZĘTOWE:
PROCESOR: Core i5 2.6 GHz
PAMIĘĆ RAM: 4 GB RAM
GRAFIKA: 1 GB (GeForce GTX 460 lub lepsza)
SYSTEM: Windows XP/Vista/7/8
DATA PREMIERY:
POLSKA: 27 marca 2014
ŚWIAT: 27 marca 2014
ZAWARTOŚĆ UPLOADU:
reloaded.nfo
rld-towaroiihatg.iso
Spolszczenie
OPIS:
Total War: Rome II – Hannibal u bram jest drugim rozszerzeniem do uznanej gry strategicznej studia Creative Assembly. Głównym tematem dodatku jest druga wojna punicka, która toczyła się w III w. p.n.e. między Rzymem a Kartaginą. To także starcie dwóch wybitnych dowódców – zaprzysiężonego wroga Rzymu Hannibala oraz błyskotliwego Scypiona Afrykańskiego.
Dodatek wprowadza do gry kolejną kampanię, rozgrywaną w zachodniej części Regionu Śródziemnomorskiego. Nowa mapa, choć obejmuje mniejszy obszar niż ta z głównej kampanii, jest od niej bardziej szczegółowa i składa się w sumie z 19 prowincji. Akcja Hannibala u bram rozgrywa się na przestrzeni lat 218 – 202 p.n.e., przy czym każdy rok składa się z 12 tur. W rezultacie, podobnie jak w dodatku Cezar w Galii, tutaj także pojawiają się pory roku i związany z nimi wpływ pogody na rozgrywkę.
Grę tradycyjnie zaczynamy od wyboru frakcji. W DLC Hannibal u bram dostępne są następujące nacje: potężny Rzym i Kartagina, pozostające ze sobą we wrogich stosunkach, bogate helleńskie miasto-państwo Syrakuzy oraz iberyjskie plemiona Arewakówie i Luzytanów; dowodzenie trzema ostatnimi jest wyraźnie trudniejsze i wymaga podejmowania dobrych decyzji dyplomatycznych.
Gra zawiera dodatki DLC:
- Greek States Culture Pack
- Nomadic Tribes Culture Pack
- Baktria Faction Pack
- Seleucid Empire Faction Pack
- Blood & Gore
- Caesar in Gaul
- Beasts of War
- Hannibal at the Gates
INSTALL:
1. Unrar.
2. Burn or mount the image.
3. Install the game.
4. Copy over the cracked content from the /Crack directory on the image to
your game install directory.
5. Play the game.
ZDJĘCIA: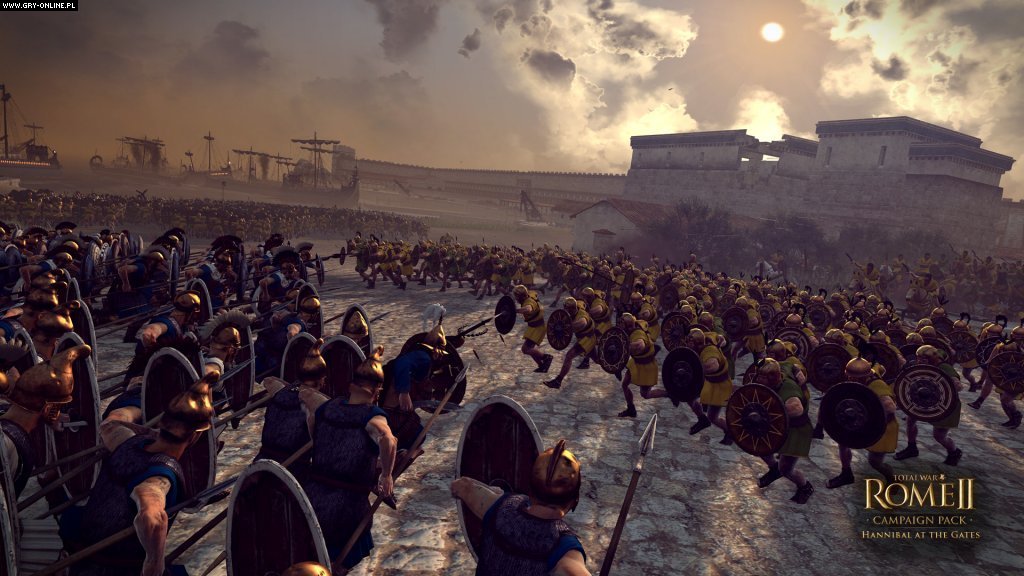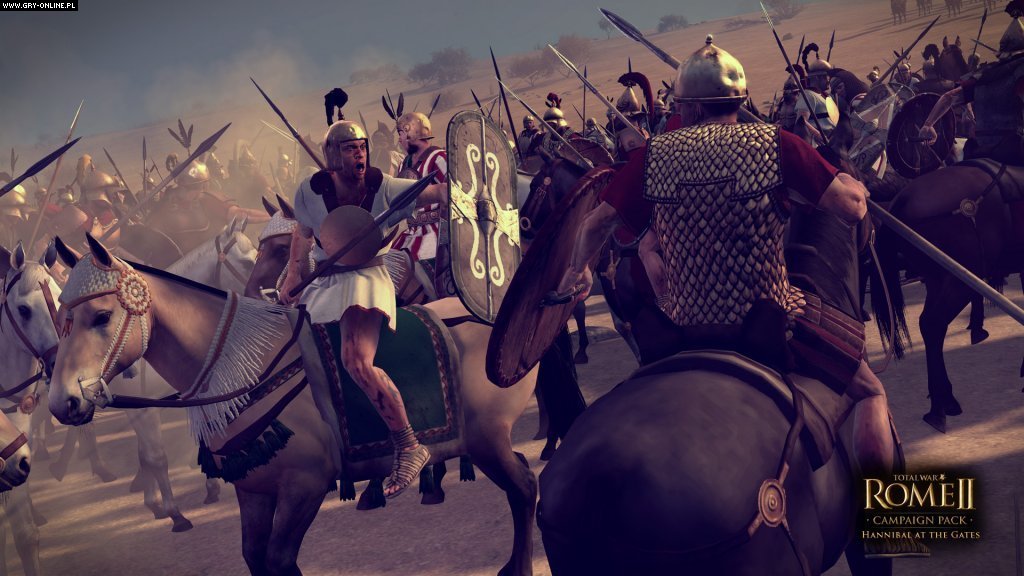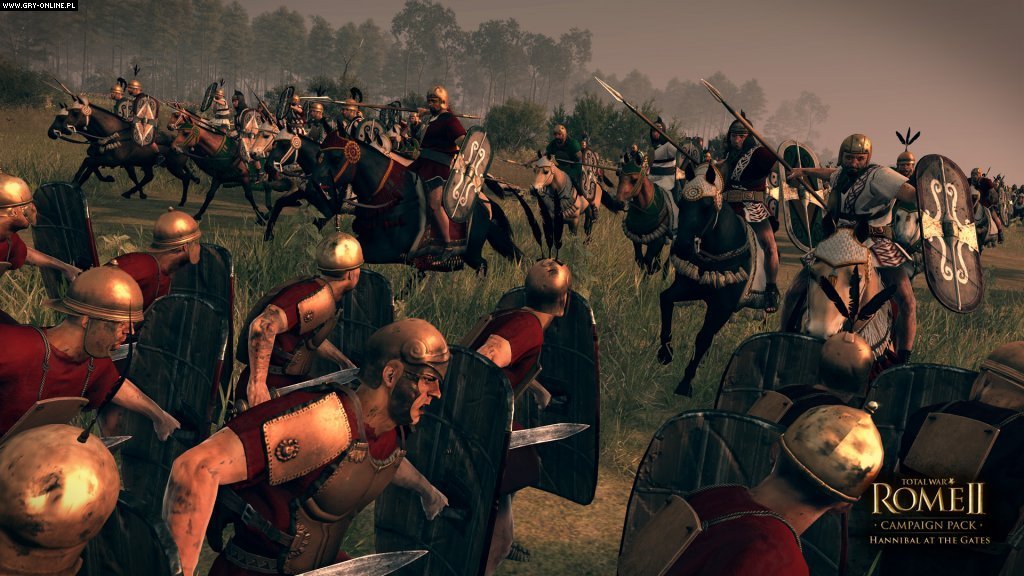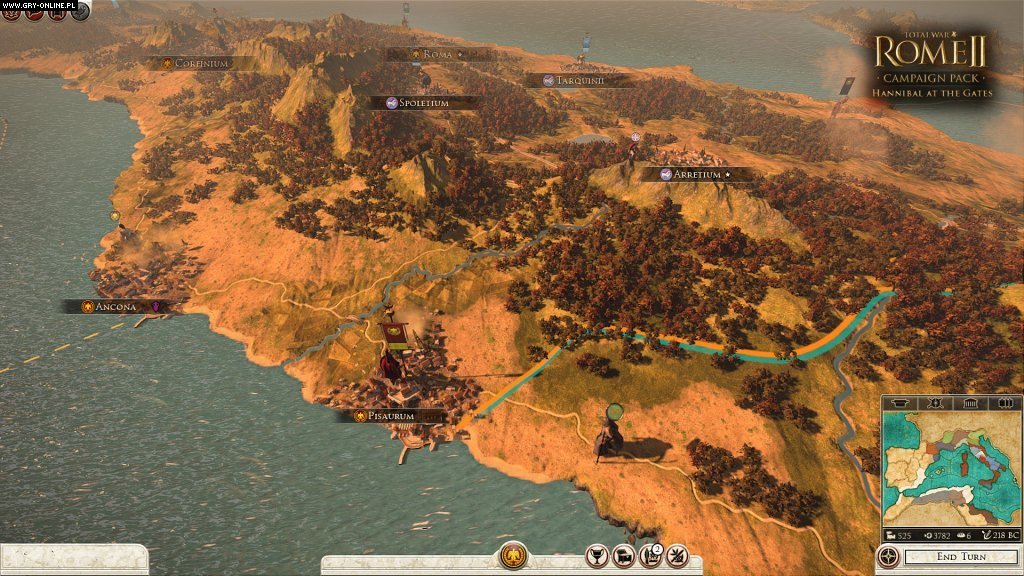 Total War ROME II Hannibal at the Gates [RELOADED].part01.rar
1,023.00 MB

WERSJA GRY: POLSKA
Gra zawiera dodatki DLC:
- Greek States Culture Pack
- Nomadic Tribes Culture Pack
- Baktria Faction Pack
- Seleucid Empire Faction Pack
- Blood & Gore
- Caesar in Gaul
- Beasts of War
- Hannibal at the Gates
Więcej >
Total War ROME II Hannibal at the Gates [RELOADED].part02.rar
1,023.00 MB

WERSJA GRY: POLSKA
Gra zawiera dodatki DLC:
- Greek States Culture Pack
- Nomadic Tribes Culture Pack
- Baktria Faction Pack
- Seleucid Empire Faction Pack
- Blood & Gore
- Caesar in Gaul
- Beasts of War
- Hannibal at the Gates
Więcej >
Total War ROME II Hannibal at the Gates [RELOADED].part03.rar
1,023.00 MB

WERSJA GRY: POLSKA
Gra zawiera dodatki DLC:
- Greek States Culture Pack
- Nomadic Tribes Culture Pack
- Baktria Faction Pack
- Seleucid Empire Faction Pack
- Blood & Gore
- Caesar in Gaul
- Beasts of War
- Hannibal at the Gates
Więcej >
Total War ROME II Hannibal at the Gates [RELOADED].part04.rar
1,023.00 MB

WERSJA GRY: POLSKA
Gra zawiera dodatki DLC:
- Greek States Culture Pack
- Nomadic Tribes Culture Pack
- Baktria Faction Pack
- Seleucid Empire Faction Pack
- Blood & Gore
- Caesar in Gaul
- Beasts of War
- Hannibal at the Gates
Więcej >
Total War ROME II Hannibal at the Gates [RELOADED].part05.rar
1,023.00 MB

WERSJA GRY: POLSKA
Gra zawiera dodatki DLC:
- Greek States Culture Pack
- Nomadic Tribes Culture Pack
- Baktria Faction Pack
- Seleucid Empire Faction Pack
- Blood & Gore
- Caesar in Gaul
- Beasts of War
- Hannibal at the Gates
Więcej >
Total War ROME II Hannibal at the Gates [RELOADED].part06.rar
1,023.00 MB

WERSJA GRY: POLSKA
Gra zawiera dodatki DLC:
- Greek States Culture Pack
- Nomadic Tribes Culture Pack
- Baktria Faction Pack
- Seleucid Empire Faction Pack
- Blood & Gore
- Caesar in Gaul
- Beasts of War
- Hannibal at the Gates
Więcej >
Total War ROME II Hannibal at the Gates [RELOADED].part07.rar
1,023.00 MB

WERSJA GRY: POLSKA
Gra zawiera dodatki DLC:
- Greek States Culture Pack
- Nomadic Tribes Culture Pack
- Baktria Faction Pack
- Seleucid Empire Faction Pack
- Blood & Gore
- Caesar in Gaul
- Beasts of War
- Hannibal at the Gates
Więcej >
Total War ROME II Hannibal at the Gates [RELOADED].part08.rar
1,023.00 MB

WERSJA GRY: POLSKA
Gra zawiera dodatki DLC:
- Greek States Culture Pack
- Nomadic Tribes Culture Pack
- Baktria Faction Pack
- Seleucid Empire Faction Pack
- Blood & Gore
- Caesar in Gaul
- Beasts of War
- Hannibal at the Gates
Więcej >
Total War ROME II Hannibal at the Gates [RELOADED].part09.rar
1,023.00 MB

WERSJA GRY: POLSKA
Gra zawiera dodatki DLC:
- Greek States Culture Pack
- Nomadic Tribes Culture Pack
- Baktria Faction Pack
- Seleucid Empire Faction Pack
- Blood & Gore
- Caesar in Gaul
- Beasts of War
- Hannibal at the Gates
Więcej >
Total War ROME II Hannibal at the Gates [RELOADED].part10.rar
1,023.00 MB

WERSJA GRY: POLSKA
Gra zawiera dodatki DLC:
- Greek States Culture Pack
- Nomadic Tribes Culture Pack
- Baktria Faction Pack
- Seleucid Empire Faction Pack
- Blood & Gore
- Caesar in Gaul
- Beasts of War
- Hannibal at the Gates
Więcej >
Total War ROME II Hannibal at the Gates [RELOADED].part11.rar
1,023.00 MB

WERSJA GRY: POLSKA
Gra zawiera dodatki DLC:
- Greek States Culture Pack
- Nomadic Tribes Culture Pack
- Baktria Faction Pack
- Seleucid Empire Faction Pack
- Blood & Gore
- Caesar in Gaul
- Beasts of War
- Hannibal at the Gates
Więcej >
Total War ROME II Hannibal at the Gates [RELOADED].part12.rar
1,023.00 MB

WERSJA GRY: POLSKA
Gra zawiera dodatki DLC:
- Greek States Culture Pack
- Nomadic Tribes Culture Pack
- Baktria Faction Pack
- Seleucid Empire Faction Pack
- Blood & Gore
- Caesar in Gaul
- Beasts of War
- Hannibal at the Gates
Więcej >
Total War ROME II Hannibal at the Gates [RELOADED].part13.rar
680.07 MB

WERSJA GRY: POLSKA
Gra zawiera dodatki DLC:
- Greek States Culture Pack
- Nomadic Tribes Culture Pack
- Baktria Faction Pack
- Seleucid Empire Faction Pack
- Blood & Gore
- Caesar in Gaul
- Beasts of War
- Hannibal at the Gates
Więcej >