Zawartość folderu "GRID.2.PAL.PL.XBOX360-SRT"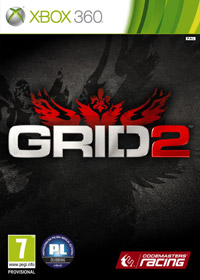 RELEASE: GRID.2.PAL.PL.XBOX360-SRT
WERSJA GRY: PEŁNA POLSKA WERSJA
ROK: 2013
GATUNEK: WYŚCIGI, RAJDY, SAMOCHODOWE
DATA PREMIERY:
POLSKA: 31 MAJA 2013
ŚWIAT: 28 MAJA 2013
ZAWARTOŚĆ UPLOADU:
srt-grid2.dvd
srt-grid2.iso
srt-grid2.nfo
srt-grid2.jpg
OPIS:
GRID 2 jest kontynuacją Race Driver: GRID, wydanej w 2008 roku gry wyścigowej studia Codemasters Software, która w 2009 roku otrzymała m.in. nagrodę BAFTA w kategorii gier sportowych. "Dwójka" wprowadza garść ulepszeń oraz rozwija pomysły ciepło przyjęte zarówno przez krytyków, jak i graczy.
W grze wcielamy się w rolę kierowcy, który stopniowo zdobywa zarówno reputację, jak i pieniądze godne mistrza kierownicy. W grze znajdują się trasy umieszczone na trzech kontynentach: w Europie, Ameryce Północnej i w Azji. Są to między innymi takie miejsca jak: Chicago, Miami, Paryż, wybrzeże Kalifornii, czy słynny tor Yas Marina w Abu Zabi, stolicy Zjednoczonych Emiratów Arabskich.
Konkurencje dzielą się na trzy typy: wyścigi po torach, wyścigi po miejskich ulicach i wyścigi drogowe. Do nowości należą pojedynki rozgrywane na wyznaczonych trasach, na których dwóch kierowców ściga się ze sobą z punktu A do punktu B.
Dostępne modele samochodów dzielą się na cztery klasy coraz szybszych aut odblokowywanych wraz z postępem w grze. Gracz może zasiąść za wirtualnym kółkiem między innymi takich pojazdów, jak Ford Mustang Mach 1, BMW E30 M3, Nissan Skyline GTR R34, Chevrolet Camaro SS, McLaren MP4-12C, BAC Mono, Mercedes SL65 AMG, Shelby Mustang, Pagani Huayra, czy Koenigsegg Agrea R.
Twórcy wprowadzili do gry jednolity model jazdy nazwany tu TrueFeel. W odróżnieniu od poprzedniczki, w GRID 2 nie ma możliwości korzystania z asyst ani wyboru poziomu trudności. Zamiast tego autorzy starali się jak najlepiej połączyć realizm jazdy ze stylem zręcznościowym, co czyni zabawę przystępną dla mniej zaawansowanych graczy, a jednocześnie pozostawia sporo miejsca do popisu dla miłośników realistycznych ścigałek. Dodatkowo, różne typy nawierzchni mają wpływ na prowadzenie samochodu i jego przyczepność do nawierzchni.
W wirze zabawy warto uważać na kolizje, bowiem samochody ulegają uszkodzeniom, które mają istotny wpływ na ich prowadzenie. Model zniszczeń został odwzorowany z dużą starannością – do jego stworzenia użyto autentycznych danych z testów zderzeniowych. Samochody podzielone zostały na około 30 stref, które realistycznie reagują na uderzenia. Urwane elementy karoserii pozostają na trasie wyścigu jako fizyczne obiekty.
Jeśli jednak mimo starań ulegniemy poważnemu wypadkowi, nie zmusza nas to do powtórki całego rajdu. W "dwójce" powraca charakterystyczny dla pierwszego GRID-a element, czyli tzw. "flashback". Daje on możliwość cofnięcia czasu o kilka sekund w celu lepszego wejścia w zakręt czy uniknięcia kolizji.
Grę napędza wersja 3.0 silnika graficznego EGO, dzięki któremu oprawa wizualna stoi na wysokim poziomie. Zarówno modele samochodów, jak i same trasy oraz ich otoczenie stworzono z ogromną dbałością o szczegóły. Fanów realizmu zasmucić może za to brak kamery z wnętrza pojazdu.
Poprawie uległo również AI rywali. Zachowanie sztucznej inteligencji dynamicznie dostosowuje się do tego, jak odnosimy się do oponentów. Jeśli jesteśmy wobec nich agresywni, mogą się nam odpłacić tym samym.
Wbrew popularnym trendom multiplayer jest osobnym trybem posiadającym oddzielny system rozwoju i w żaden sposób nie łączy się z kampanią dla jednego gracza. Jest on natomiast powiązany z RaceNet, serwisem społeczności fanów gier wyścigowych studia Codemasters. Ścigać można się w dwie osoby na podzielonym ekranie lub w kilkanaście przez Internet.
ZDJĘCIA:
GRID.2.PAL.PL.XBOX360-SRT.part02.rar
1,023.00 MB
GRID.2.PAL.PL.XBOX360-SRT.part04.rar
1,023.00 MB
GRID.2.PAL.PL.XBOX360-SRT.part07.rar
1,023.00 MB
GRID.2.PAL.PL.XBOX360-SRT.part08.rar
1,023.00 MB