Zawartość folderu "Grand.Theft.Auto.V.XBOX360-COMPLEX"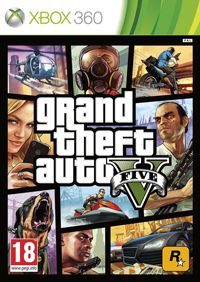 RELEASE: Grand.Theft.Auto.V.XBOX360-COMPLEX
WERSJA GRY: ANGIELSKA / POLSKA (Napisy)
ROK: 2013
GATUNEK: AKCJI, TPP, GANGSTERSKIE
DATA PREMIERY:
POLSKA: 17 WRZEŚNIA 2013
ŚWIAT: 17 WRZEŚNIA 2013
REGION: REGION FREE
ZAWARTOŚĆ UPLOADU:
complex.nfo
complex-gta5.disc1.dvd
complex-gta5.disc1.iso
complex-gta5.disc2.dvd
complex-gta5.disc2.iso
OPIS:
Grand Theft Auto V – kolejna odsłona kultowej serii gangsterskich gier akcji studia Rockstar North – ponownie zabiera nas do świata wzorowanego na Kalifornii. Tym razem jednak nie odwiedzamy San Andreas – jak miało to miejsce w grze z takim podtytułem, ale Los Santos – do złudzenia przypominające Los Angeles, parodiującego najbardziej charakterystyczne cechy "miasta aniołów" i jego mieszkańców. Twórcy postarali się o rozbudowanie swojej produkcji pod każdym względem w stosunku do poprzednich odsłon cyklu.
W Grand Theft Auto V wcielamy się w trzech całkowicie odmiennych bohaterów: Michaela – byłego rabusia banków ze wschodniego wybrzeża, objętego ochroną w ramach programu ochrony świadków, Trevora – pilota wojskowego w stanie spoczynku, cierpiącego na zaburzenia psychiczne oraz Franklina – odzyskującego samochody od niewypłacalnych klientów lokalnego armeńskiego dilera. Każdy z nich pochodzi z innych środowisk społecznych, które szczegółowo odwzorowano w grze. Twórcy tak skonstruowali fabułę i system rozgrywki, aby w każdej chwili można było dowolnie przełączać się między trójką protagonistów za pomocą jednego przycisku i w ten sposób szybko poznać świat Los Santos oraz zawsze być w samym środku akcji.
Główna metropolia Grand Theft Auto V oraz jej zróżnicowane okolice, na które składają się góry, pustynie, urwiska, pola uprawne, doliny, bazy wojskowe, a nawet strefa brzegowa Los Santos z podmorskimi kanionami i rafą koralową, są największym światem, jaki kiedykolwiek stworzyli spece z Rockstar North. Jest on owocem niezliczonych wypraw w teren, a przy pracach nad nim wykorzystano wiele danych statystycznych związanych ze społeczeństwem zamieszkującym Kalifornię. Pozwoliło to tchnąć życie w każdy element życia miasta – od zachowania poszczególnych przechodniów po rodzaje samochodów występujące na ulicach i system zarządzania ruchem ulicznym.
Nasze niczym nieskrępowane przemierzanie świata Grand Theft Auto V urozmaicone jest dużą liczbą minigier (jak choćby tenis, yoga lub golf), lecz jej sedno stanowią misje, w których możemy sterować jednym, dwoma lub całą trójką bohaterów. Wśród nich dużą rolę odgrywają napady na bank, a także przypadkowe misje, na jakie można losowo trafić w poszczególnych lokacjach. Niektóre z nich są powiązane z postaciami przyjaciół lub członków rodziny głównych bohaterów, przez co pozwalają na lepsze poznanie protagonistów i pogłębienie ich wątków fabularnych. I tak, Michael musi rozwiązać problemy natury rodzinnej ze swoją żoną Amandą oraz dziećmi – Tracy i Jimmym, Trevor zadaje się ze zwolennikiem teorii spiskowych Ronem, natomiast Franklin musi znosić towarzystwo swoich szalonych kumpli, wśród których prym wiedzie niejaki Lamar.
Twórcy jak zwykle oddali do dyspozycji graczy całe multum pojazdów – od rowerów po skutery wodne, samoloty i helikoptery. Ulepszeniu uległ system prowadzenia samochodów, bardziej przypominający gry wyścigowe. W grze ponownie pojawia się sieć sklepów z bronią Ammu-Nation, a na znaczeniu zyskała także walka wręcz. Jednocześnie twórcy musieli ograniczyć opcje personalizacji postaci (teraz sprowadzają się do zmiany ubioru), a także zmienili system ekonomiczny w grze, co wiąże się z niemożnością kupowania nieruchomości.
Z punktu widzenia rozgrywki wieloosobowej, jest ona połączona z trybem zabawy dla pojedynczego gracza i wykorzystuje rozwiązania z innych gier studia Rockstar Games, jak chociażby Max Payne 3.
Gdy chodzi o oprawę audiowizualną, na potrzeby gry stworzono dynamiczną ścieżkę dźwiękową, która znakomicie dostosowuje się do tempa akcji oglądanego na ekranie. Z kolei grafika powstała w oparciu o zmodyfikowaną wersję autorskiego silnika studia Rockstar Games – RAGE (Rockstar Advanced Game Engine). Umożliwia on m.in. na renderowanie bardzo dużych połaci świata gry oraz wykorzystuje bardziej zaawansowany system cieniowania i symulacji świateł. Tak jak w poprzednich odsłonach serii, twórcy zrezygnowali z fotorealizmu na rzecz grafiki przejaskrawiającej cechy współczesnej metropolii, jaką jest Los Santos.